"A Great Place To Be Somebody!"
Vision
To prepare our students for the high school, college and career of their choice.
Our Mission
Samuel Gompers Elementary School is a public school dedicated to the education of the whole child.
Our mission focuses on developing the character, scholarship, and leadership potential of every child.
By 8th grade graduation we expect every student to meet the following standards in these areas:
Character – Words and actions demonstrate the school pledge and core values.
Scholarship – Proficiency on the PSSA for Reading, Math, and Science
Leadership – Proven Capacity to inspire, organize, and manage themselves and others. (Example service learning Project
Message From Principal DeLuca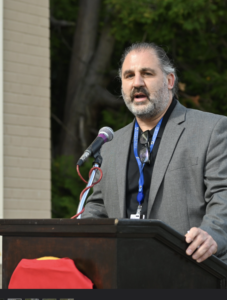 August 18, 2022
Greeting Students and Families:
Welcome Back to the 2022-23 school year!  I am excited to again serve as the Principal of Samuel Gompers School.This is an amazing learning community and I am humbled to be a part of it. I am excited about the tremendous possibilities that we can accomplish together this year!
In spite of a world pandemic known as COVID-19 and social unrest around the country, the Gompers staff is ready and excited about providing a great learning experience to all families and students this year. I am truly excited about being back to full in person learning 5 days a week for the second year in a row!. We will continue to provide online programs such as Lexia for reading and Imagine Learning for Math, and our teachers will continue  to use the latest technology to teach. Students will be using chrome books in the classrooms and at home during the year depending on grade level. Grades 4-8 will take chromebooks home while K-3 will keep chromebooks at home. Teachers will provide more details.
We will begin August 29th at 8:15 sharp with a Morning Meeting for 30 minutes followed by a full day of instruction.Kindergarten will have half days for the first week of school.  Doors open at 7:45 for free breakfast and the start time of 8:15 is aligned to our bus schedules. All students will have a 45 minute lunch/recess break as well as shorter breaks during the day. Our  end time will be 2:54 PM
Phillip DeLuca
Principal
Value Statement
Samuel Gompers encourages critical and independent thinking, moral integrity, creativity, and partnership with parents and the community so our students are prepared and supported in becoming life-long learners.