"A Great Place To Be Somebody!"
Vision
To prepare our students for the high school, college and career of their choice.
Our Mission
Samuel Gompers Elementary School is a public school dedicated to the education of the whole child.
Our mission focuses on developing the character, scholarship, and leadership potential of every child.
By 8th grade graduation we expect every student to meet the following standards in these areas:
Character – Words and actions demonstrate the school pledge and core values.
Scholarship – Proficiency on the PSSA for Reading, Math, and Science
Leadership – Proven Capacity to inspire, organize, and manage themselves and others. (Example service learning Project
Message From Principal DeLuca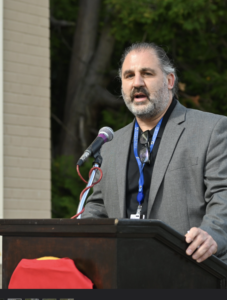 Principal's Message
August 14, 2023
Welcome Back to the 2023-24 school year!!!!
I am honored to serve again this year as the Principal of Samuel Gompers Elementary School. It is a privilege to lead this learning community and it is exciting as we come back from a year of seeing growth from our students and the fruit of all of your hard labor!. Knowing that the reason we are here is to cultivate the students makes me excited about the tremendous possibilities that we can accomplish together this year.
This year, Dr. Watlington will continue with his mission, "Equity for Students in Every School". This concept is simple – equality for every student, regardless of where they live, or their background, their school experience will be great! This goal aligns with our current mission of:
·  A Challenging Educational Program
·  Inspiring students to achieve both, intellectually and personally
·  Caring and respectful professionals/individuals to guide our students
·  Developing students who are resilient, well equipped, and socially responsible
This year again, we will accomplish this important task through a stimulating and comprehensive program.  It is still our responsibility to ensure the safety of our students, develop their talents and watch them soar!
I believe that genuine collaboration fosters ownership of a rich school culture.  Supporting our Gompers students to do well at school and in their lives is the core of our work. I will continue to work diligently on behalf of our students and school. As we embark on a new school year, I look forward to working with each and every one of you again. Teamwork, flexibility and cooperation will be the key to success for all at Gompers.
Sincerely,
Phillip DeLuca
Phillip DeLuca – Principal
Assistant Principal's Message
August 14, 2023
Dear Gompers School Family,
It brings me immense joy to welcome each and every one of you back as we gear up for another fantastic school year!
As the Assistant Principal of Gompers, I am thrilled to work alongside such an amazing group of educators and support staff, all of whom are committed to the students' success. You continue to shape the minds of our students and empower them to become the best version of themselves. Your unwavering dedication to creating a positive and inclusive learning environment is admirable. I wholeheartedly believe that great schools are a result of great teachers, support staff and community partners.
This academic year, we have some exciting plans and initiatives in store that I am confident will create a positive impact on both our students and staff. I look forward to listening to your ideas and vision for our school and collaborating with each of you to support a sense of community. You are the heart of Gompers, and I am genuinely excited about the work that lies ahead of us during the 2023-2024 academic year.
Warmest Regards,
Karletta Poland
Karletta Poland -Assistant Principal
Value Statement
Samuel Gompers encourages critical and independent thinking, moral integrity, creativity, and partnership with parents and the community so our students are prepared and supported in becoming life-long learners.